OBSERVATION SITE LOCATION

39 53'20" S
69 48'4" W
Duration of Total Solar Eclipse:
2m 09.4s (2m 09.1s lunar limb corrected)
Eclipse Date: 14 December 2020
1st Contact
11:45:47.0 Altitude of sun +61.7
2nd Contact
13:08:18.0 Altitude of sun +72.5
3rd Contact
13:10:27.5 Altitude of sun +72.6
4th Contact
14:36:15.8 Altitude of sun +68.8
All times are local (UTC/GMT -3)
Credit Xavier Jubier
WEATHER PROSPECTS
We wish to acknowledge the work of Jay Anderson and Jennifer West http://eclipsophile.com for their invaluable contribution and detailed analysis of Climatology and weather for Celestial Events.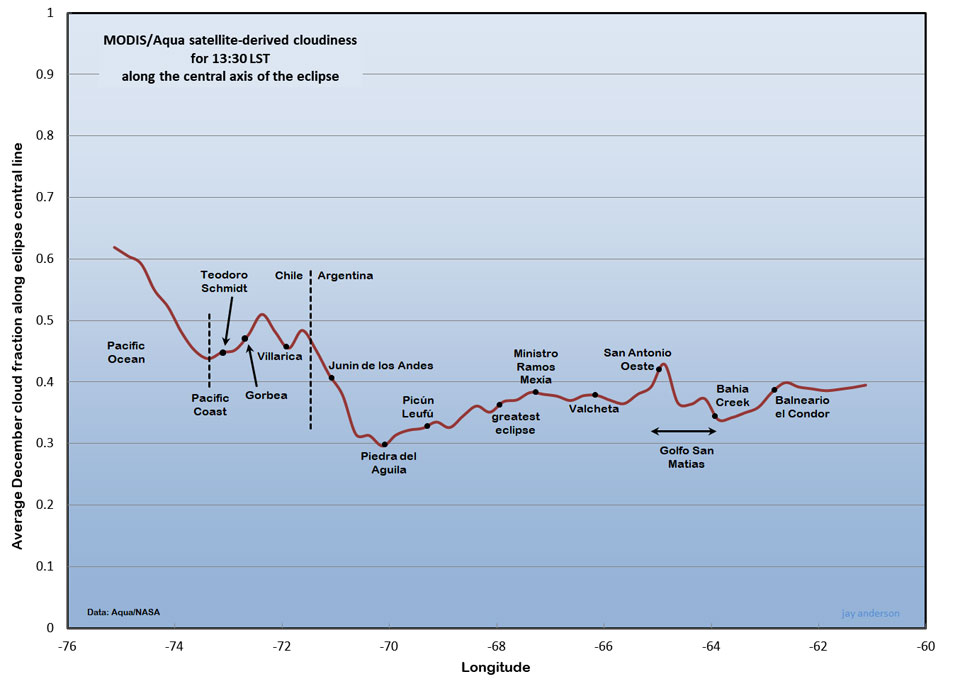 "The path of the lunar shadow in 2020 brings eclipse seekers back to Chile and Argentina for another shadow crossing less than 18 months after that of 2019, but this time it comes in the Southern Hemisphere summer.
In Argentina, the sunniest and driest regions lie up against the east side of the Andes, with the very best cloud prospects near the small community of Peidra del Aguila. According to the graph in Figure 7, cloudiness is highest along the Chilean border, where the peaks of the Andes often generate high-level cloud as the air is lifted to flow over the 4000-m peaks. Once away from the heights, east of Junin de los Andes, the mean cloud amount drops below 40 percent and remains there until the track reaches the Atlantic coast at San Antonio Oeste.
The eclipse path crosses a rough and tumble landscape from the mountains to the coast, with limited accommodation and facilities. Close to the central axis of the path, Peidra del Aguila, a small but pleasant-looking community, offers the best eclipse weather prospects. There are limited amenities, but the town is probably destined to become a popular viewing point, since it is relatively easily reached from Bariloche (200 km) or San Martin (200 km) along Highway 237, or from Neuquen (235 km) in the north. Piedra del Aguila is 22 km south of the central axis, but a short distance north, a dam site across the Rio Limay boasts a small park that is 7 km closer. The landscape at the centre line itself is open and rather barren, offering little protection from the wind but lots of space to gather."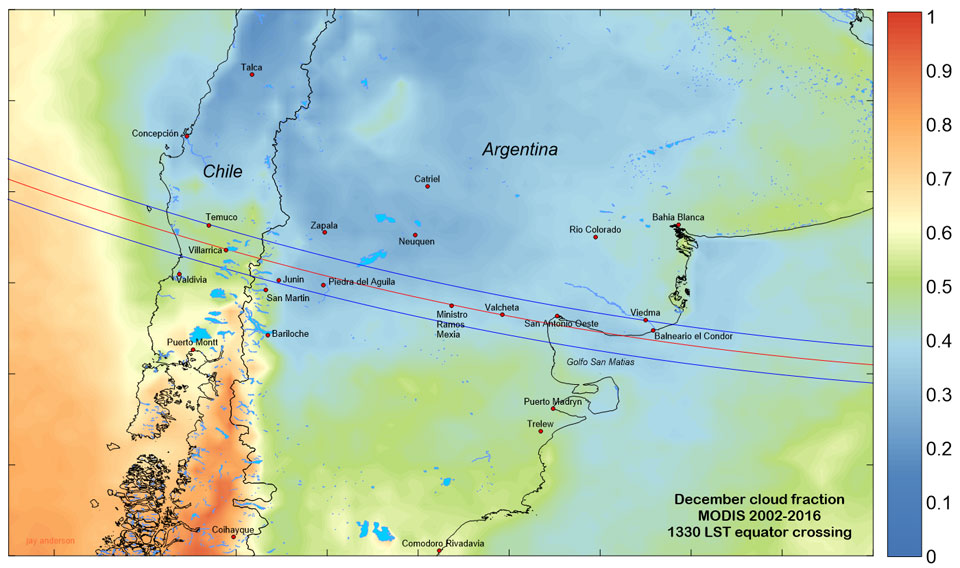 Credit Jay Anderson and Jennifer West http://eclipsophile.com